Home Care tailored to your needs
We make the process to start receiving care at home as easy as possible. Our experience in home care services tells us that families will often cope for months or even years before reaching out for a little assistance. When you do need us it's OK, we can help.
We understand that your family's situation is specific to you and the home care services that you need for your loved ones will need to be bespoke. The first step in our process is to listen, whether you want a chat on the phone or you would like us to pop and see you to meet your family, we will start by understanding your circumstances. Whether it's elderly care or respite care – or anything else – we will be there to assist you.
Once we have got to know you a little better, our experienced care team will be able to review your home care needs, produce a detailed plan and shortlist a number of carers.
As you would expect our caregivers have the necessary skills and experience to support you but in addition we try to match characters, hobbies and interests. We think people get on better when there is a shared passion.
The final step is for you to choose the Visiting Angel who will be providing your home care. We allow you to choose your caregiver because we understand that inviting someone into your home is a big decision. We know that it is important who provides the home care service as well as what they do and when. We chose our caregivers for a reason and we want you to choose them too.
So it is a simple three stage process but it all starts with a chat so call us today to arrange you free in home consultation. We are experts in the home help field, so you need not worry that you will be in the best care when you choose Visiting Angels.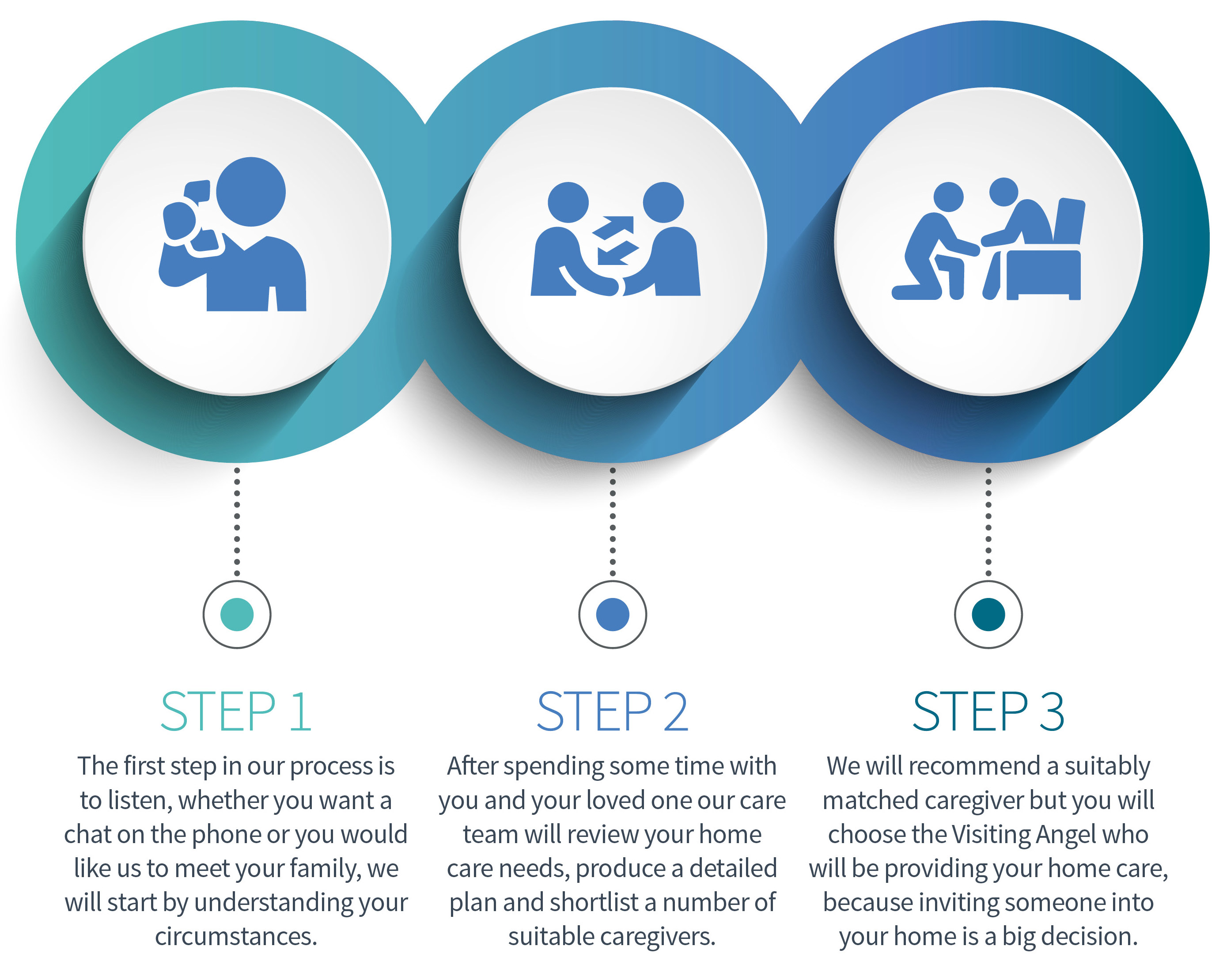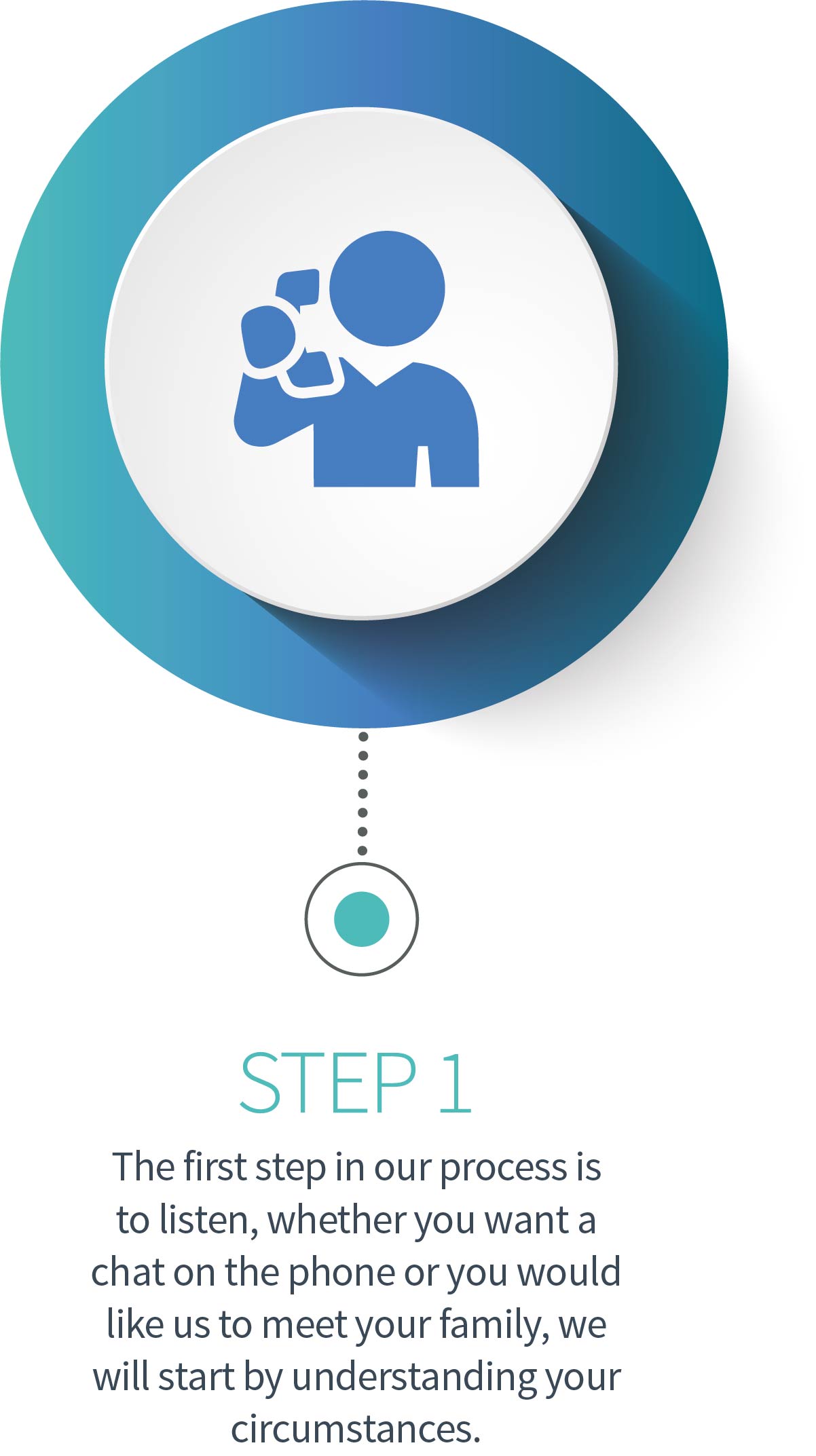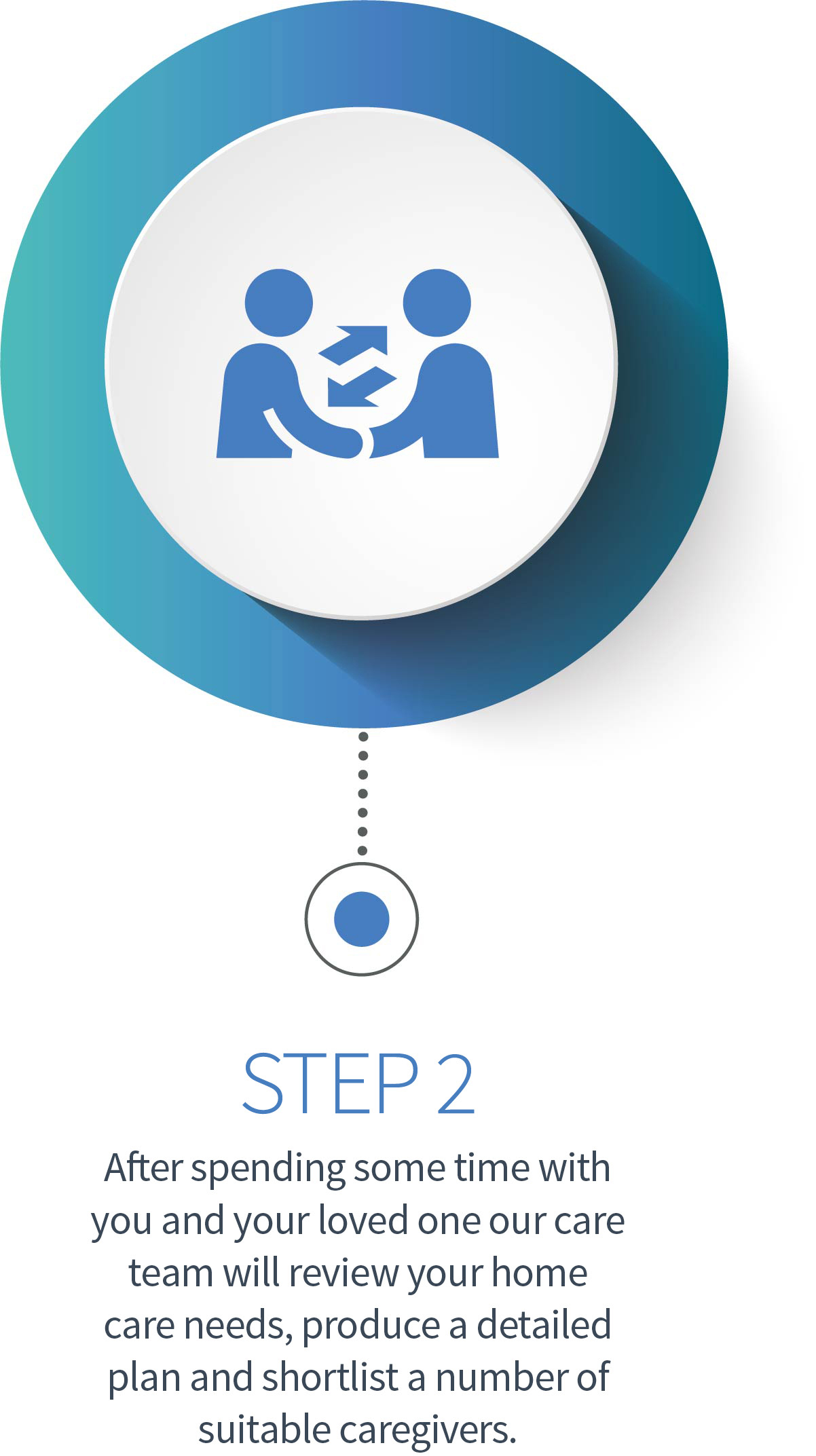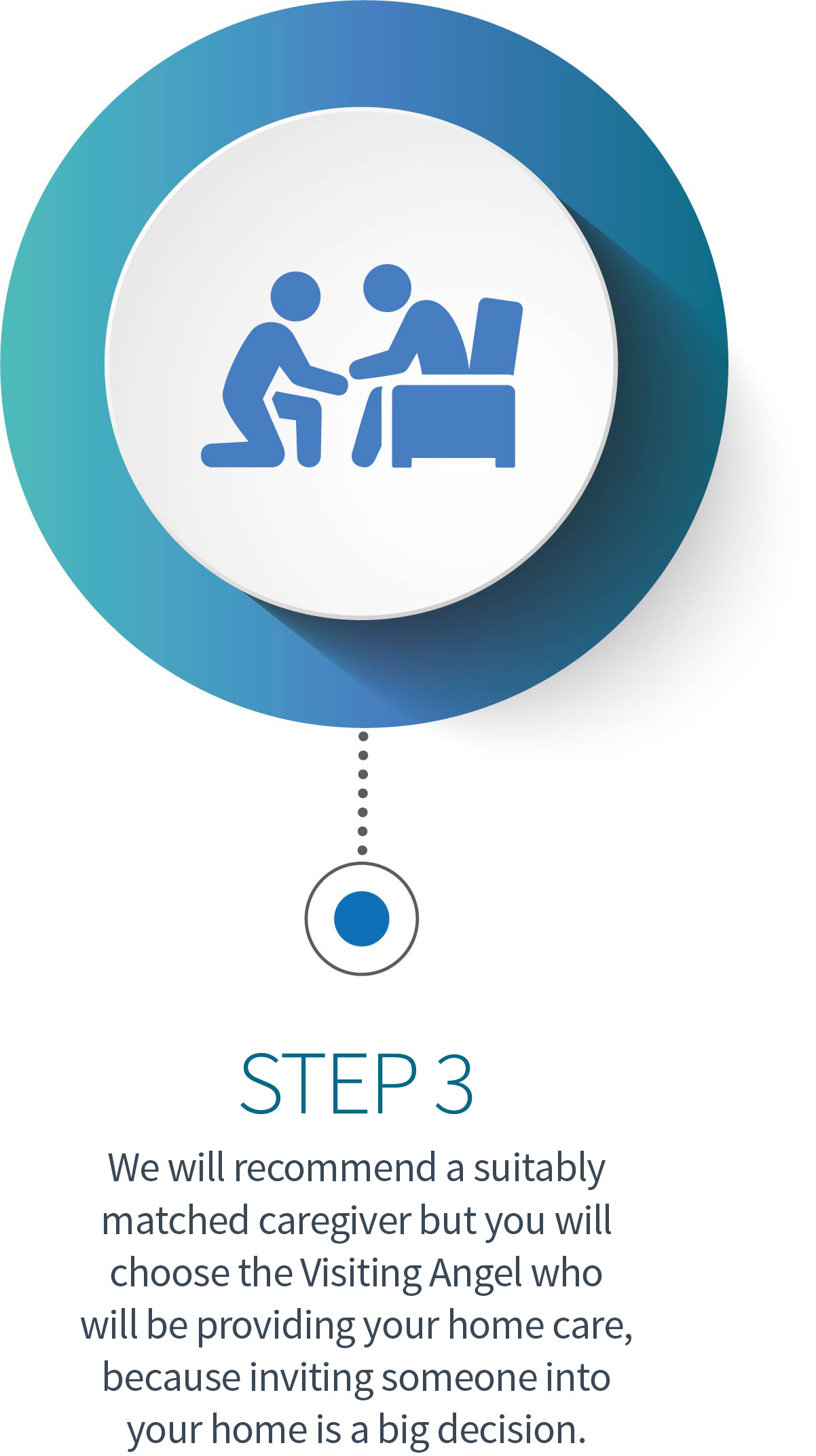 "Thank you for your kind and considerate care that you provided for my mother.  Please thank your caregiver.  She was great for my Mum and we were lucky to have her."
"I just wanted to drop you a note to thank you and your staff for the great care you provided for my Mother.  It truly made a difference to know that she was well taken care of."
So much home care is the same and we don't feel that for care to be truly person centred it can be standardised at all.
The move towards person centred care comes from a historic feeling that home care was being done to people rather than assistance being provided for people. Many home care providers now use the language of focusing on people's wants and needs but if they haven't changed their approach how can the quality of their care have improved?
We believe that actions speak louder than words and that to deliver quality home care a provider has to redefine their systems and procedures. Our business is one of the UK's first carer centric organisations. Instead of just saying how important our carers are we have truly put the Visiting Angels caregivers at the heart of what we do. This is the reason that our at home care is the best you can find.
For us every decision we take starts with the question "What does this mean for our caregivers?"
We feel that caregivers need to be paid more, supported better and rewarded for loyalty. Without these things a home care provider will have high staff turnover and that will mean an irregular and inconsistent service and potentially a different carer each day. We know that you don't want to trust the support of your family to someone on minimum wage and we also know that once you are used to a carer it is important that they stay with you.
Our approach delivers unrushed, consistent high-quality home care from caregivers who want to care and who work within an organisation which allows them to care. Our carers provide the highest quality in home care, elderly care, respite care and so much more.
"Our sincerest thanks for providing our loved one, Ruth, with some of the kindest people to ever enter our home. Mum's caregiver not only provided Ruth with daily care but nourished her mind, body and soul with loving words and even song."
"I appreciate all you have done for my mother.  Visiting Angels was there at a time when we really needed help and we are very thankful for that. Visiting Angels have been great to work with.  I would recommend your organisation to anyone who needs assistance."
We have placed the carers at the centre of our business to ensure that they are able to place the care of your family at the centre of what they do. We know that our caregivers are brilliant, loving, professional people doing amazing work and finding the right carergivers is something that we do not leave to chance.
We recruit highly skilled, talented caregivers but in addition to validating their knowledge and experience we also complete personality profiling to understand a little more about their character. We know that you don't just want a person to look after your family, you want that special person, you want a Visiting Angel.
We take 4 references and all of our caregivers have to complete written tests and evidence previous learning before being security screened and completing induction training with us. We pay our carers more than minimum wage because we know that better people doing important work deserve to earn more. We also have incentives, reward programmes and a loyalty structure which help us to keep our caregivers happy.
What this means for you is that when we find a Visiting Angel that you want to welcome into your life, there's a good chance that they will stay with you for as long as you need them. By focusing on our caregivers we are able to provide you with a superior quality carer and look after them to ensure that you get a consistency and continuity of care.
Some funding for care may be available from the Local Authority and it is an important difference for home care that the equity in your property will not be considered as an asset. Unlike healthcare from the National Health Service, adult social care is not necessarily free. Most families contribute to some or all of their care and support costs. To understand whether funding may be available the Local Authority will complete a financial assessment taking into account earnings, pension, savings and investments.
There are however some elements of support which will covered by the state including intermediate care or reablement for up to six weeks, community equipment such as bath seats and minor adaptations to the home.
Because of limited funding and to give themselves the choice of who provides their care many people have decided that they would prefer to take a direct payment from the Local Authority. By making this choice if it is available, you will be able to receive a payment instead of taking care from the council.
You can then use this funding to choose the care provider that you want to work with not just the one that the council selects.
All of this means that if you qualify for social care funding it is possible to top up your care package with a small additional payment to enable you to fund your care with Visiting Angels. If, however your financial assessment means that you do not qualify for funding at all, we are also able to introduce you to expert financial advisors locally who can help you to pay for your care needs.
Our team can direct you to the right people to discuss your care needs. We know that it can seem daunting, but we have the expertise to help you through the process.
Thousands of families have already chosen Visiting Angels and benefitted from:
* Highest standards of care and support giving independence
* Reliable regular visits from the same carer(s) that they chose
* Friendly support from a family of genuinely caring people
* Carers backed by a business that really cares about them
* A service which is quick to react and adaptable to change