Visiting Angels are now serving Cambridgeshire
Visiting Angels are a global leader in providing quality home care, and began operating 22 years ago, originating in Philadelphia, USA. Now Visiting Angels have arrived in Cambridgeshire, UK, and are set to deliver quality at home care and companionship, to hundreds of people requiring everything from personal care to complex homecare services, including palliative care. Our regional office and Angels Training Academy based in Huntingdon, will serve all communities across Cambridgeshire, from St Neots to Kirtling, and Ely to Melbourn.
Providing quality home care across Cambridge City, South Cambridgeshire, East Cambridgeshire, Huntingdonshire and Fenland
We have caregivers, (our Angels), providing quality homecare to:- Huntingdon, Cambridge, St Neots, St Ives, Ely, Newmarket, Cambourn, Cottenham, Godmanchester, Melbourn, Bassingbourn.  Also to:- The Alconburys, The Hemmingfords, The Stukeleys, The Riptons, The Shelfords.
We also provide home care to smaller towns and villages around these centres. It is important that our at-home service through our Angel caregivers, are as local to you as possible, so that they are serving their own local community.
An essential part of our service offering is to give our clients a choice of caregiver matched to their own specific care needs, and to their hobbies and interests.
It is important for the long-term relationship that our clients trust the caregivers that they invite into their homes.
Cambridgeshire County Council Market Position Statement 2019
According to the Market Position Statement for Cambridgeshire, it sets out the challenges facing Adult Social Care as:-
An underfunded system which means they have to meet increased demand with a reducing budget
Care workforce shortage due to the recruitment and retention challenges experienced across the sector
Challenges in meeting the increased admissions and associated delayed hospital discharges
Lack of capacity to deliver care in rural communities and Cambridge City
Lack of capacity to deliver nursing and nursing dementia care for older people in some parts of Cambridgeshire
My mission is twofold, to help address these significant challenges across Cambridgeshire, whilst raising the quality of care to Outstanding, as measured by the Care Quality Commission. Afterall, I will live out the rest of my days in this beautiful English county, and I too will probably need care of the highest quality at some point.
Ian Lintott – Visiting Angels Cambridgeshire
Visiting Angels Cambridgeshire
Regional Office and Angels Training Academy
Westminster House
Spitfire Close
Ermine Business Park
Huntingdon, PE29 6XY
01223 455945  or  01480 751731
"We would like to thank you for your services and for the wonderful care that your team provided to our Mum. Whenever we have the opportunity, we recommend your services."
"I would like to take this opportunity on behalf of the family to extend our heartfelt thanks to you and your organisation for all of the kindness and care that was afforded to our mother."
Owners and business directors Ian and Nicola Lintott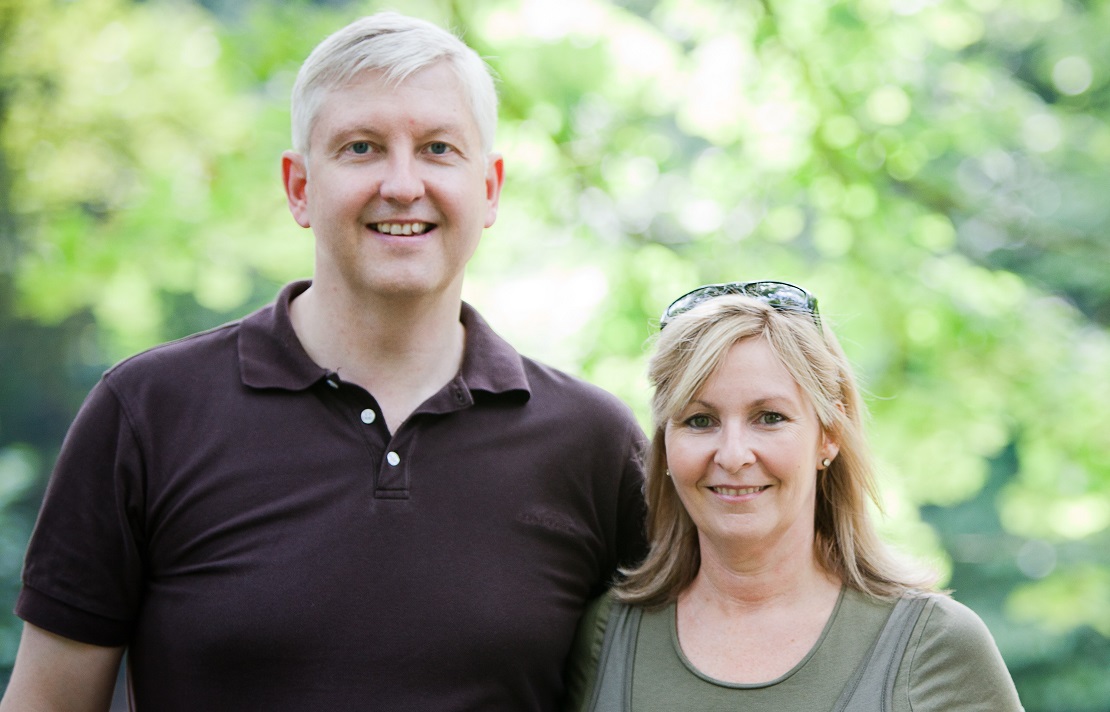 We met as Area Sales Managers working together in the same pharmaceutical company 20 years ago, have been happily married for the last 13 years, and have a 9 year old son. We share the same passion for doing what is best and right for our patients/clients, and our teams, and importantly also share the same sense of humour. We are still relatively new to Cambridgeshire, having moved to the small village of Yelling, 6 years ago. However, we have certainly settled, and are putting many roots down through a network of friendships, as well as membership of many clubs and societies throughout Cambridgeshire. It is an absolute pleasure to serve both our local and wider communities.
Ian
I recently left my Marketing and Sales career in pharmaceuticals spanning 25 wonderful years, to start Visiting Angels Cambridgeshire, in order to fulfil a lifelong ambition for running my own company. But why did I choose the care sector with all of its challenges of recruiting and retaining good Caregivers? Over the past 2 years I have witnessed the deterioration in my dear parents-in-laws' health and have seen first-hand how their home care support has been delivered. Receiving 2×30 minute and 2×15 minute calls per day is neither sufficient for them, nor their caregivers. There just isn't enough time in any of these calls for my parents-in-law to feel like they are being treated with dignity and respect, nor for the caregivers themselves to be set up for success and achieve a level of job satisfaction. The care plan and the system which developed it is fundamentally flawed. My purpose is to provide a new care option for Cambridgeshire, and it is my pleasure to serve the community in which I live.
Nicola
I was a qualified nurse before working in the pharmaceutical industry for twenty four years. I now work in Mental Health as Head of Patient and Carer Engagement, PALs and Complaints for St Andrews Healthcare in Northampton. I sit on the Visiting Angels Company Board as a Non-Executive director, and provide Ian and Sam with guidance and support from a healthcare perspective. My experience of working in a highly regulated environment together with a focus on quality improvements, as a result of my work with patients and their families, means I can make contributions that will be invaluable to our organisation.
Sam Kingston – Registered Care Manager
Having been in the care industry for nearly ten years in various settings, I have developed a passion for working with people in their own homes and providing an exceptionally high quality of care.
I have come to learn that staff are the heart of any organisation. When they're happy and enthusiastic, this translates into our clients receiving the best possible care.
I began my career as a support worker before working my way up to manage a large department and eventually going on to start up a new service.
Having done this, I realise the importance of embedding good practice from the first day to develop a safe and caring service.
My next goal is to create a service rated as Outstanding by the CQC, and a culture which benefits both our clients and our Angels.
"Thank for literally being "visiting angels" to dad. Without you his life would not have that magic touch you brought to him. You will be treasured for your work."
"I want to thank you for sending me such a wonderful Angel to help me during my recuperation. I always felt safe and comfortable when she was here."
News
We want to ensure that we are communicating the most [...]