Coronavirus (COVID-19) Information
We understand that Covid-19 is a major concern for our clients and their families. We always have robust infection control measures in place, and with the additional infection control training we have provided, you can be assured we work to meticulous standards of hygiene. Our high staff retention means our care teams are consistent which gives the best possible protection from infection. Because the same caregiver comes each week, even in the uncertainty of the current situation, there will always be the comfort of a familiar face.
Providing Award Winning home care service across Cambridge City, South Cambridgeshire, East Cambridgeshire, and Huntingdonshire. (We do not cover Peterborough or Fenland).
Your Care, in Your Home, just as you like it!
Why choose Visiting Angels as your Home Care solution?
Our unique approach to managing your home care begins with listening to you. We know that purchasing home care is rarely a happy occasion, driven by either an acute health episode, or a slower deterioration in health or mobility, which has prompted a call for help.
Therefore our team give the time to understanding your personal story, your circumstances, concerns and needs, we then create a home care plan completely tailored for you, or your elderly loved one.
Home sweet home care
We help you or your loved one remain independent, and cared for in the comfort of your own home for as long as possible! With a Visiting Angels tailored home care package, from either a couple of hours per week of respite care, to full time care, our home care services can flex to your needs, and develop over time as you require.
What is Carer-centricity?
This means that we put our Caregivers (Angels) at the heart of everything we do. We set them up for success in delivering the care you need, we believe that care cannot be rushed, and that companionship should come as standard.
Importantly, we also reward our Angels with the best pay rates in the industry, as well as continually developing their capabilities to deliver quality care.
Which types of Home Care do we provide?
At Visiting Angels we have an experienced team of Angels we are therefore able to provide a range of care services including:
Personal Care
Older People Care
Companionship and domestic help
Dementia and Alzheimers Care
Stroke Care
PEG Feeding Care
Palliative Care
End of Life Care
Respite Care
Additional specialist training is given where needed so that our Caregiving Angels know exactly how to best support you, or your elderly loved one, thus providing excellent value for money.
Tackling Loneliness in Cambridgeshire
An interview with Kev Lawrence on BBC Radio Cambridgeshire
Where do we deliver Award Winning Home Care in Cambridgeshire?
Towns and villages include: Huntingdon, Cambridge, St Neots, St Ives, Ely, Cambourne, Cottenham, Godmanchester, Fulbourn, Melbourn, Bassingbourn.
Also to: Alconbury, Alconbury Weston, Alconbury Weald, Hemingford Abbot, Hemingford Grey, Great Stukeley, Little Stukeley, Abbots Ripton, Kings Ripton, Great Shelford and Little Shelford. We also provide home care to smaller towns and villages around these centres.
Postcodes include:
CB1, CB2, CB3, CB4, CB5, CB6, CB7, CB21, CB22, CB23, CB24, CB25
PE19, PE27, PE28, PE29
SG8, SG19
We provide local carers (Angels) that live in or near to your community, and we match them to both you and your home care needs through Choose Your Caregiver.
What is Choose Your Caregiver?
An essential part of our service is to give our clients a choice of caregiver matched to their own specific care needs, and to their hobbies, pastimes and interests. We introduce you to our matched Caregiver before home care starts, so that you can get to know them and decide if they are right for you. It is important for our long-term relationship that our clients trust the Angels that they invite into their homes, and enjoy being in their company.
How important is a pre-support assessment?
To provide you or your loved one with outstanding Home Care, we start with a very detailed assessment of who you are, your story, your back ground and interests. This means that we quickly get to know your close family and your social network. We also work with other healthcare stakeholders to fully understand your medical history in order to craft a home care plan tailored to your needs.
This assessment is then provided free and without obligation, so that you can sample the quality of our Home Care service before making a decision. After all, choosing the Home Care provider which is right for you, or your loved one is important, and the last thing you need is any pushy sales people adding unnecessary pressure.
Ian Lintott – Visiting Angels Cambridgeshire
Visiting Angels Cambridgeshire
Regional Office and Angels Training Academy
Westminster House,
Spitfire Close,
Ermine Business Park,
Huntingdon, PE29 6XY
01223 455945 or 01480 751731
"I have no hesitation in recommending the Visiting Angels team. They listened carefully to our particular needs and provided a detailed care plan which has now been implemented.

The individual carer has shown understanding and patience, already going the extra mile to ensure individual needs are met. Tremendous service."
"We found Visiting Angels to be well-managed and professional. They were thorough and took time to assess our particular and personal situation and requirements.

Throughout, they were caring, willing and adaptable. I have no hesitation in recommending such a supportive and trustworthy company."
Owners and business directors Ian and Nicola Lintott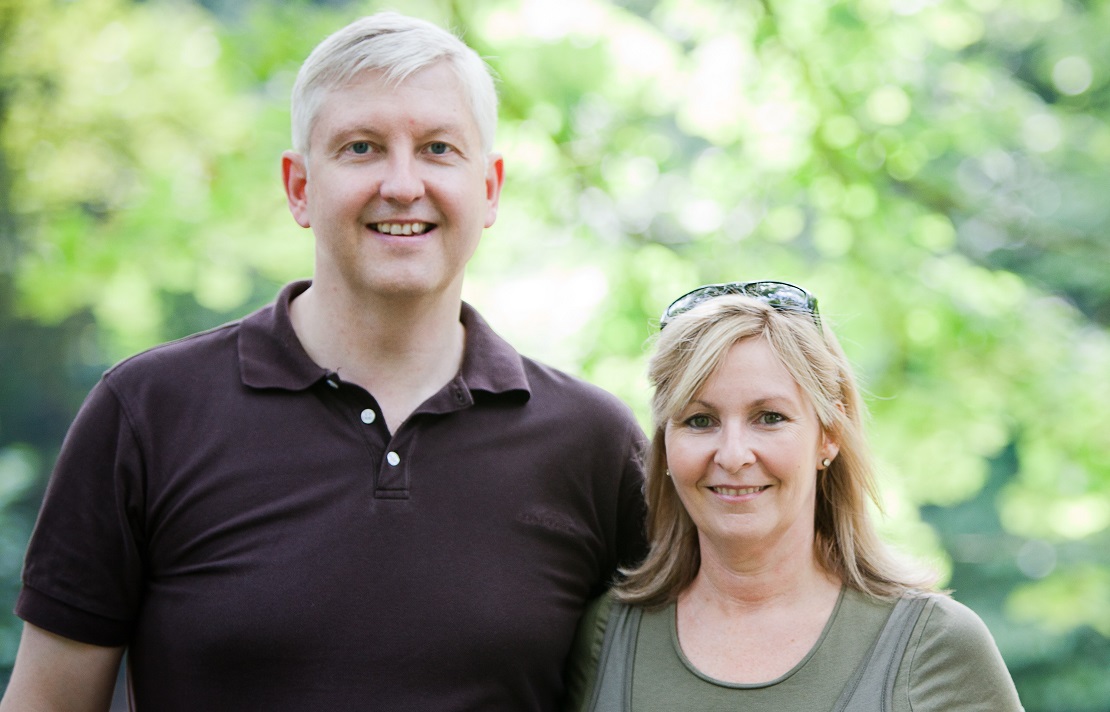 Our story and getting started in Home Care
We met as Area Sales Managers working together in the same pharmaceutical company 20 years ago. Having been happily married for the last 13 years, we have a 10 year old son called Thomas. We share the same passion for doing what is best and right for our patients/clients, and our teams, and importantly we also share the same sense of humour.
The small village of Yelling became our home seven years ago, and we have certainly settled, putting down many roots through a network of friendships, as well as membership of different clubs and societies throughout Cambridgeshire. It is an absolute pleasure to serve both our local and wider communities.
Nicola – People Director
My first job after leaving school was as a qualified nurse, before working in the pharmaceutical industry for twenty four years. Presently, I sit on the Visiting Angels Company Board as a Non-Executive director, and provide Ian and Sam with guidance and support from a healthcare perspective.
Experience of working in a highly regulated environment together with a focus on quality improvements, as a result of my work with patients and their families, means I can make contributions that will be invaluable to our organisation.
Ian – Managing Director
I recently left my Marketing and Sales career in pharmaceuticals spanning 25 wonderful years, to start Visiting Angels Cambridgeshire, to fulfil a lifelong ambition for running my own company. But why did I choose the care sector with all of its challenges of recruiting and retaining good Caregivers?
Over the past 2 years we have witnessed the deterioration in my dear parents-in-laws' health and have seen first-hand how their home care support has been delivered. Receiving 2×30 minute and 2×15 minute calls per day is neither sufficient for them, nor their caregivers.
There just isn't enough time in any of these calls for my parents-in-law to feel like they are being treated with dignity and respect, nor for the caregivers themselves to be set up for success and achieve a level of job satisfaction.
The care plan and the system which developed it is fundamentally flawed. My purpose is to provide a new care option for Cambridgeshire, and it is my pleasure to serve the community in which I live.
Karen Nash – Head of Care (Registered Manager)
Karen
Having been a Registered Manager for over twenty years in various Home Care settings across Cambridgeshire, I have observed many positive changes in Home Care over the years, but believe that Visiting Angels provide high quality care, through being truly carer-centric, and putting our Angels at the heart of everything we do.
This is important because, highly motivated, well trained and supported Caregiving Angels are better abled to support our clients varying and evolving needs.
I have come to learn that by matching our Angels to their clients, means that they can build a strong and trusting relationship which benefits them both.
I love my job!
Our service is rated as Good by the Care Quality Commission, but our ambition is Outstanding. I want to create a culture which benefits both our clients and our Angels.
"Thank for literally being "visiting angels" to dad. Without you his life would not have that magic touch you brought to him. You will be treasured for your work."
"I want to thank you for sending me such a wonderful Angel to help me during my recuperation. I always felt safe and comfortable when she was here."
News
Councillors and care providers have added their voices to the [...]